A Personal Trainer In Your
Back Pocket
READY TO MAKE A CHANGE? GET STARTED NOW!
Start Your Free 7 Day
Trial Today
A 5-step, heart rate based system designed to maximize your fat burning zones, sculpt toned muscle, and create a healthy mindset
Are you ready to turn up the heat on your fitness?
START TODAY YOUR 7 DAY FREE TRIAL!
Invest In YOU | Love Your Body
Finally, an EFFECTIVE system designed for YOUR body, based on your unique heart rate. Not based on your jean size, your age, or a number on the scale. 
This isn't another passing trend, a quick fix, or a cookie-cutter workout that will leave you on a plateau. 
These workouts teach you to train efficiently and effectively so you can see SUSTAINABLE results– even for the busy woman dealing with REAL life. 
This app will help you:
Peak The 12
Progressive Levels
Brooke Taylor Fit integrates both nutrition and exercise together, helping you create a lifestyle transformation around your health. (Fancy for not just another workout regimen).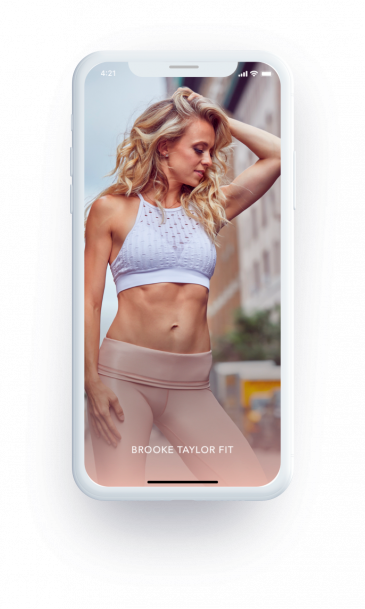 Level 1: Help to safely prepare your body by building your basic strength, endurance, stamina, and stability.
Level 2: Continue to learn how to challenge your cardio endurance and muscular strength with more full-body workouts.
Level 3: Youll be pushed even further with challenging super-set exercises that continue to increase your strength and endurance.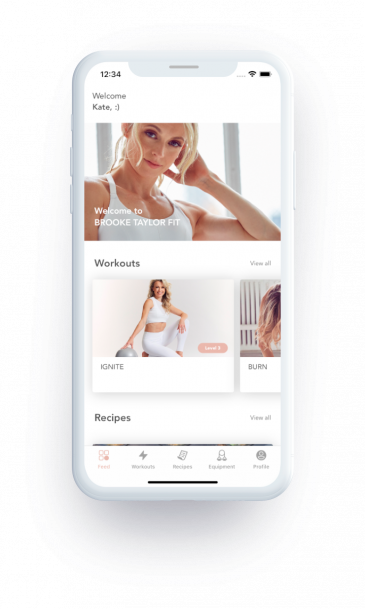 Level 4: Introducing compound movements and plyometrics to challenge your strength and coordination, and help you improve overall fitness.
Level 5: Complex movements will be combined and arranged in ways to challenge you and maximize your results.
Level 6: Increase the intensity with heavier weights and cardio intervals for that extra calorie burn and core challenge.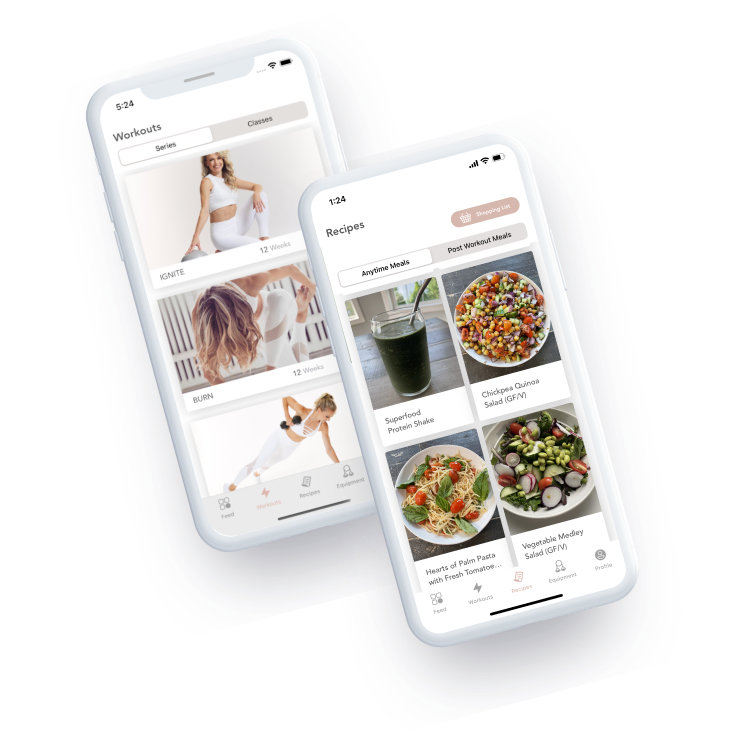 Level 7: Supercharge your fitness with supersets, plyometrics, and body weight movements for ultimate muscular endurance.
Level 8: Rev up your metabolism using multiple muscle groups to maximize your workout time. More burn for your buck!
Level 9: Welcome to your HIIT series! Wake your body up, burn more calories in LESS time, and continue challenging your fitness.
Level 10: Ignite Your Fitness! Incorporating heart rate pumping jump rope intervals, full body movements, supersets and core integration.  All designed to increase lean body mass, improve cardiovascular endurance, strength, stability, while challenging your body both mentally and physically.
Level 11: Introducing new full body movement patterns, heart rate pumping circuits, challenging your strength, stability and muscular endurance.
Level 12: A functional strength and conditioning series that will burn fat, build lean muscle mass, through compound movements, cardio drills and supersets. One of the most efficient ways to achieve optimum strength + muscular endurance.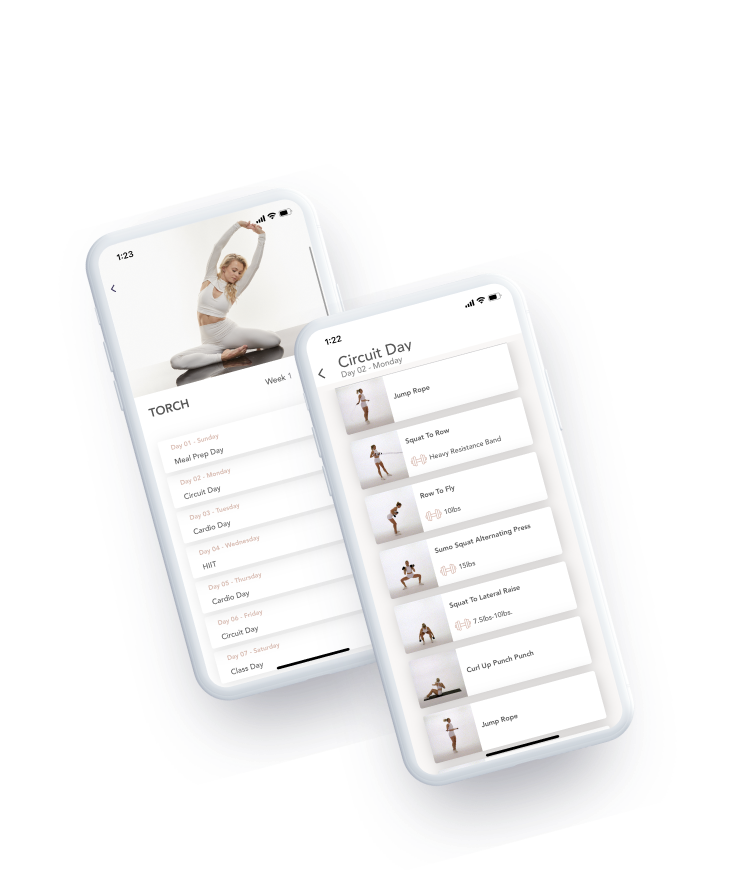 What Makes Brooke Taylor Fit Different?
Your heart rate calls the shots. Think of it as having a personal trainer attached to your wrist. This is how you learn to find your sweet spot. The spot that teaches you how to prevent injury, build endurance and encourages lean muscle and strength.
With 45-60 minute workouts, you get 12 months to retrain your body, recharge your fitness, and create a healthy, committed relationship with your workouts, taylored to your best body.
When you join our program, you are not alone. The online group is built to support you. I make it a point to make sure myself or my team reaches out to make sure you are clear, confident, and motivated – and always have your questions answered.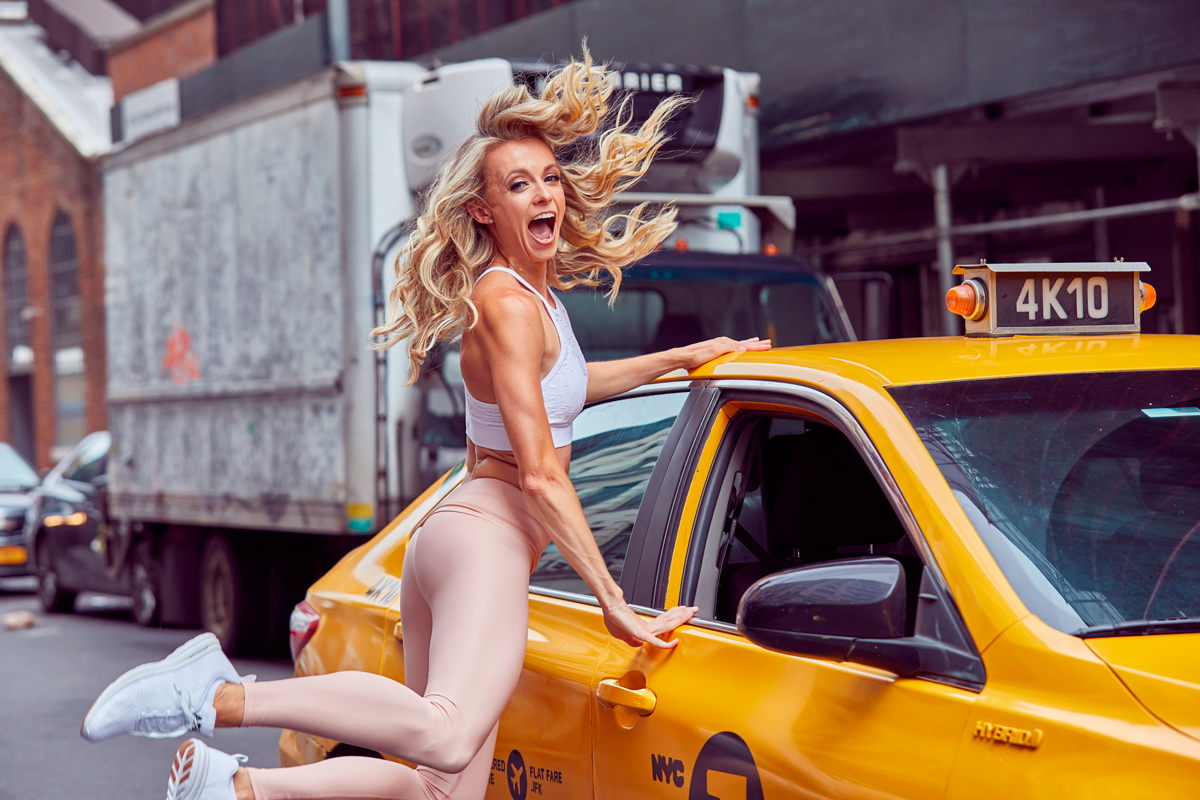 Our program integrates both nutrition and exercise together helping you create a lifestyle transformation around your health. (Fancy for not just another workout regime.) We give you the tools to be successful on your own time with access to over 100+ anytime and post workout meals. Learn how to fuel your workouts, manage portion control and nourish your body the right way so that you see results.
Ready to Ignite Your Fitness?
Revitalize Your Wellness with the Brooke Taylor Fit App: A Holistic Approach to Nutrition and Exercise
Real Success Stories
Seeing is believing!
Transform Your Life with Brooke Taylored Fitness – Before and After Photos Show Remarkable Results for Total Body Health and Wellness!
Transform Your Body in Just 6 Weeks with the BROOKE TAYLOR FIT APP Challenges!
Choose the plan that's right for you
JOIN BROOKE TAYLOR
FITNESS COMMUNITY
Ignite Burn Blaze Today and Turn The Heat Up On Your Fitness! Maximize your fat burning zones, sculpt toned muscle, and create a healthy mindset. Choose your Investment Option Below To Begin!
Investing in your health is a big decision. I'm fully confident the VALUE this program will bring to your workouts will not only transform your body, but also the way you think about fitness. But you still might be nervous to spend your hard-earned dollars before you see the goods. I get that and respect it. That's why you can cancel at any time. Join BTF today and 28 days later, if you don't feel you've received value from the program, simply cancel your membership.
Real People, Real Results: Hear
What Our Clients Have to Say
Discover How Our Tailored Solutions Helped Clients
Achieve Their Goals
Brooke Taylor's method WORKS. I mean it. Try this app. The way, she teaches you to monitor and use your heart rate as a tool (so you really push yourself, but not TOO hard where you can't go after it the next day). The way she thoughtfully and strategically crafts the workouts to build upon each other, so they are always getting progressively harder (but give you the stepping stones to strengthen the right muscles first, so you have the foundation). The way she teaches you to have a relationship with food. It's all gold.
I say all of this from experience. I could barely do a squat and had a muscular imbalance in my hip when I started (in addition to my struggle to recover from two C- sections). But through trusting her process and watching my form, I was able to strengthen up the right way (while shedding pounds) and having fun! My body moves in an entirely different way now, and I'm so proud of it. And through nutrition and workout consistency, I'm forming lifelong habits that I couldn't put a price on. I'm a mother of two now – a 15-month-old and a 4-year-old- and I'm about to be in the very best shape of my adult life, including my pre-baby self. It's so exciting to have a tool like this in my pocket. And the support of a community of strong, beautiful women that Brooke is creating.
Brooke Taylor Fit app is all you need! Brooke has thought of it all. She has done all of the guesswork for you. You can tell she has had many years of educating herself on the best exercise techniques to yield results. Within the app, she has a day by day exercise program along with delicious healthy recipes for you to fix. All you have to do is show up. The app is so easy to navigate as Brooke breaks down each exercise with instruction, and each new workout builds on the last! I have cooked many of the recipes, and they are easy, quick, and delicious! After using the app for even 28 days, I feel better, and I can already see a difference in my appearance. The thing I love the most about the app is Brooke makes it personal. She is always available to answer questions and is supportive, offering positive feedback! She makes you feel important, like you are her only client. This app truly is the best. If you have been looking for a workout app, you need to give this one a try! 
The best overall guide to better yourself
This App has changed the way I look at exercising, simple meal planning and creating a routine to help fit myself in this crazy life with 3 kids under 5.  Brooke provides such 1 vs. 1 attention, follow up, recognition & fun challenges to keep you fully engaged. I feel more energized, more controlled over my cravings, and overall a better self for my family. Within 3 weeks of following this program, I am down to a (healthy) 9lbs! I am feeling great! This is a routine I will keep forever. Great work! Thank you!
Brooke was my trainer at a gym when I was a dancer and singer on Broadway. She KNOWS the body, how to get you to feel strong from the inside out, and you don't have to wonder if you will see results. Do her workouts and you will see and feel the difference. Once she made her app, I deleted all of the other apps I never used and finally felt excited that I was back on track. **Side note: it is a bonus that she is the most genuine positive real girl's girl you could ever meet, and she wants everyone to thrive!
Best Fitness App You Will Find!
This is the most comprehensive fitness app you'll find. Brooke Taylor is a fitness coach with a wealth of knowledge and experience, and she's managed to fit it all into one app. You get graduated exercises that push you a little harder each week and meal recipes that are both healthy and delicious. If you stick with the program that she has outlined for you, you'll see your body transform. This is the best fitness app I've ever used, and I am sure you'll feel the same. 
One of the best fitness apps on the market. The attention to detail, heart rate specifics and customization makes this personalized to YOU! It really is like having a "personal trainer in your back pocket." Thank you for creating this, Brooke, I have never felt better. It's the perfect way to start my day!
Start Today with your
7 Day Free Start Challenge
A 5-step, heart rate based system designed to maximize your fat burning zones, sculpt toned muscle, and create a healthy mindset.
 Not finding the answer to your question? Please visit our full Commonly Asked Support Questions page here.
Are you ready to turn up the heat on your fitness?
START TODAY YOUR 7 DAY FREE TRIAL TODAY!